Best Northern Pike And Walleye Fishing In Biscotasing, Northern Ontario
You'll find walleye, northern pike, perch and whitefish…
Lake Biscotasi is home to yellow perch, whitefish, and the best northern pike and walleye fishing in Biscotasing, Northern Ontario. The walleye and northern pike make up the bulk of a fisherman's catch. Perch are generally considered a bonus fish that are occasionally caught with its close cousin the walleye. Whitefish, although very plentiful, are cold water fish with small mouths. This makes them rather difficult to catch as they prefer the deeper parts of the lake and rely mainly on small insects for food. An exception to this is in early spring and late fall when they move into shallower waters.
Bisco is a 'tea-coloured' lake with endless bays and islands. The stained water is perfect for walleye fishing. The multitude of bays and islands provide miles of habitat for the northern pike and walleye.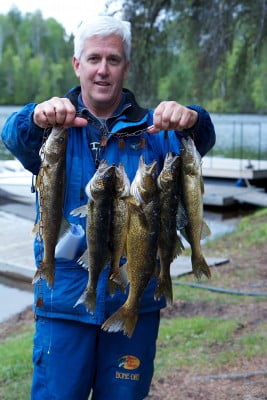 The dark waters of Bisco keep the walleye in shallow depths throughout the fishing season. Unlike crystal clear lakes where walleye head for deep waters in the summer months, the walleye of Bisco can be found in relatively shallow waters even in the middle of summer.
It's fish for dinner…
Leeches, crayfish, and underwater insects are the primary forage for walleye, pike, and perch on Bisco. Forage fish consist primarily of small game fish rather than minnows.
Pike fishing and walleye fishing tactics vary. The thing to keep in mind is that feeding fish are found at or near the bottom. The technique is usually more important than the type of lure you are using. Trolling is popular for both species. Shallow running plugs and worm harnesses are some of the popular lures here. Drifting or casting with bottom bouncing jigs are extremely effective, especially for walleyes. Casting with spoons and spinners in shallow bays can give you hours of entertainment catching hard fighting Northerns.
The average size of walleye caught on Bisco range between 13 to 24 inches or 1 to 4 pounds. Northerns average between 18 to 28 inches or 1 to 7 pounds. Perch range between 8 to 12 inches. Of course, these are averages, trophy walleye average around 8 lbs. and northerns up to 25 lbs.
Contact us to learn more about our fishing tour packages and Lake Biscotasi, Northern Ontario accommodations.