Lake Biscotasi, Northern Ontario Accommodations
Rustic charm in a natural setting
Ritchie's End of Trail is on Lake Biscotasi, Northern Ontario, has accommodations located on its four-acre peninsula. Along its shoreline, you will find six unique cabins, each with its view of the lake. Whether you bring your sweetheart or all your buddies, we have got an ideal sized cabin to fit your party. All the cabins are set apart from one another, nestled in mature pines. Paths connect the cabins along with central showers, the office, fish hut, etc. The setting is natural and intimate.
Unlike traditional fishing camps of long ago, you will find our Lake Biscotasi, Northern Ontario accommodations clean and modern. Rustic in style the cabins have all been recently renovated and include decks, screened-in porches, indoor plumbing and much more.
Facilities…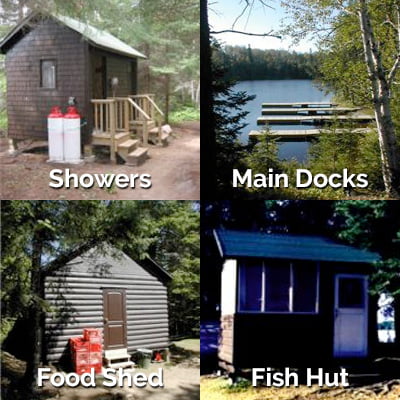 Around End of Trail you will find these facilities to make your fishing tour packages more enjoyable:
Central Showers – with plenty of hot water – close by, always clean.
Main Docking Area – with access to gas, bait shed and fish hut.
Well – with the coolest, best-tasting water in the north!
Food Shed – for those on the "Full Package" plan, where you'll find all the extras available on our menu.
Firewood – unlimited supply, split and dry.
Bait Shed – where you will find the night crawlers, extra fish landing nets, stringers, etc. for your fishing tour packages.
Fish Hut – with lights and water….always clean and bug-free.
Fire Pit Area – for campfires and telling fish stories!
Office – where you can find lake maps, check the daily posted weather forecast, souvenirs, and always get advice on where to catch the 'big ones'…
Gas Shed – place to get your gas, and get more friendly knowledge!
Horseshoe Pits – place to throw the irons and tell more fish stories.