All day on the lake shoudn't
be a back breaking experience…
At End of Trail we want your day on the water to be remembered with memories of fishing and relaxation, not pain and frustration. That's why we take a special effort in supplying you with the best equipment.
Our boats and motors are all excellently maintained. When you arrive you will find a boat already to go – tuned up, fuel topped off, safety equipment stowed away and sparkling clean.
We supply Mirrocraft and Princecraft aluminum boats with 15hp, 4-stroke Yamaha outboard motors. Boats and motors are newer models.
For two people we offer the 14 foot Mirrocraft or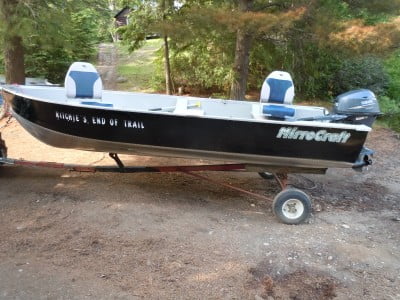 'Princecraft' with 15hp Yamaha motor. For three people we have the 15 foot 'Yukon' with 15hp motor.
All boats come with padded swivel seats!
Boats come with all the safety equipment as per Transport Canada's guidelines.
Boat Specifications and Equipment:
14′ Mirrocraft or Princecraft aluminum boat with 15hp, 4 stroke Yamaha motor
15′ boat with 15hp motor for groups of three
Padded swivel seats
Set of paddles
Personal flotation device (vest style)

Waterproof flashlight
Safety heaving line
Bailing bucket
Whistle
Anchor